About Us
King's has been building garden relationships in Sonoma County since 1896.
We are a fabulous little nursery tucked away into the historic McDonald neighborhood area of Santa Rosa, CA, loaded with stuff you don't see anywhere else: award winning Weeks and Star roses, 75+ varieties of sweetpeas, unique custom-planted colorpots and baskets, premium flowerbulbs, fragrant peonies, plus many one-of-a-kind garden delights.
Our passionate staff of plant geeks are dedicated to making your green thumb greener, so come on in and get your gardening juices flowing!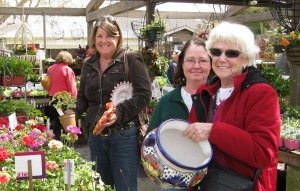 Sometimes, we get out and about in Sonoma County to participate in flower-oriented activities, like:
Thursday, 6/30/11 was our first-ever 'Midsummer Night in the Garden' party! We invited all our neighbors and friends (new an old!) to come out for an evening of food, fun and flowers at our nursery. We made loads of tasty food and refreshments, enjoyed acoustic music and potting demonstrations, even gave out special prizes, but the highlight of the evening was when we had a large flash mob show up and sing a few songs!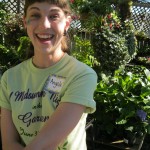 A good time was had by all, and we came away from it  feeling so happy and thankful for the scads of people who continue to support their local nursery- us!

Thursday, 6/23/11 Susan and Julie went out to the Sonomarin Fair to show folks how we make our signature potted creations. It was a pleasantly cool evening, in the the courtyard of the wine garden. This was our second year in a row of participating at the fair in Petaluma, and we were glad to be invited back.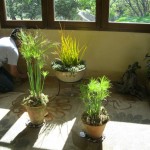 Thursday, 5/12 thru Sunday 5/16/11 our nursery participated in the Sonoma Designer's Showcase in Kenwood. We staged houseplants in the butler's quarters, creating a serene display within the exquisite European Estate home featured there. Guests came out to tour the lovely home, built by Reiter Fine Home Building, that was decorated by various local designers from the Wine Country chapter of the Interior Design Society.


Saturday, 4/9/11 we were excited about participating in an afternoon event at The Summerfield Cinema (formerly The Rialto). They featured a film that day called 'Queen of the Sun', about bees and their colonies. Beekeepers and folks who produce honey were there, with a working hive you could view through glass- super cool! A couple of our King's Nursery flower fanatics, Cindy and Pat, showed up with bee-friendly flowers and seeds. Flowers and bees go hand in hand, so of course we were happy to go!
Check out Summerfield Cinema online here:
http://summerfieldcinemas.com/
Tuesday, 4/5/11 Cindy and Debbie headed out to Windsor, to talk with the Windsor Garden Club about a popular trend in gardens right now, 'orna-medibles'. It means mixing edibles into the ornamental landscape, which can be surprisingly pleasing to the eye as well as functional. Think outside the box here- edible flowers, interesting foliage, ornamental fruit…
These gardeners up north in Windsor really take pride in what they do, and it shows. Check out this recent Press Democrat article about them:
http://windsor.towns.pressdemocrat.com/2011/03/news/windsor-garden-growing-strong/
Monday 3/7/11 one of our managers Susan Hatch was at SRJC, having been invited to speak at their Sustainable Garden Design short course. Among other things, the class emphasizes garden practices  that cause minimal impact to the planet. Susan talked with folks about the concept of "Ornamedibles", garden designs that incorporate ornamental plants alongside edibles. Blueberries, pomegranates, citrus and even veggies are interesting as part of the landscape, and are well-suited to our Sonoma County climate.
Part of this, too, is re-purposing and re-using things in new ways. Bulb crates, an old dress form, or even a well-traveled guitar case can be seen through new eyes when you fill them with flowering plants (like we do at King's)
Saturday 11/27/10 we delivered and staged potted arrangements for a winery wedding in Healdsburg.
It was a bit trickier than usual, as this is a transitional time in the garden- summer flowers are finishing up on cue from the frost, yet the winter beauties can be somewhat on the small side.
Regardless, we planned ahead and worked our magic, so the pots were brimming with purple and orange-toned flowers and foliage, making an eye-catching display in the same colors as the bridal party. Our own Julie, Susan, Ryan, and our owner Fred made the trip out there, placing each arrangement just so. It makes such a difference when living plants are integrated into formal occasions…..evoking nature in an elegant way.
Tuesday 11/16/10, members of the Oakmont Garden Club came out to see all the gift ideas that King's Nursery has to offer! Cindy and Nan did a neat potting demo, to show folks how we create the lovely signature pots and hanging baskets that we are famous for. Bulbs were the theme of the day, with lots of questions answered and creative planting ideas explored.
It was a lovely warm morning, and the turn-out was great, with many attentive attendees. Thanks to Janet Gelfman and all the friendly garden-lovers for making it so fun (not to mention all the yummy refreshments!).
Friday 11/5/10 was the day that our nursery partnered with The Volunteer Center to create a new landscape at one of Santa Rosa's more unique historical buildings- The Church Built from One Tree, near downtown, in Julliard Park. Our own co-manager Susan drew up the landscape design, and she and Cindy came out to place and help install the plants. Volunteers included some hard workers of all ages from Agilent and Medtronic, and our friend John-Henry, The Garden Hero.
The history of this church is pretty interesting. It was originally located further north, where Ross St. is now. It began as a functioning Baptist Church, and the congregation included the family of Robert L. Ripley, who was baptized there as an infant. In later years there were plans to demolish the church to make way for a parking lot, but supporters found a way to re-locate it instead, to it's current home in Julliard Park. At one time the building even housed a collection of Ripley's Believe-It-Or-Not memorabilia, but over the years the structure and grounds had fallen into disrepair.
If you saw the place now, you'd be amazed! All the stained glass, beautiful wood flooring and detail have been lovingly restored, inside and out, and the grounds are now planted with sturdy-yet-attractive evergreens and perennials. The building is to be available for functions, weddings, and the like, so check it out if you're in the neighborhood. Thanks to all our helpers!